Samsung Galaxy Xcover Pro 2 may sell under a different name, Google Play Console suggests
A while back @OnLeaks posted renders of the upcoming Samsung Galaxy Xcover Pro 2. Except that may not be what the phone is called – the Google Play Console does indeed list a device named "xcoverpro2", but it gives its marketing name as "Galaxy Xcover6 Pro".

The SM-G736U may be marketed as the Samsung Galaxy Xcover6 Pro
Whatever the final name, the rugged phone will be powered by a Snapdragon 778G as we saw in Geekbench results. The unit that did the test had 6GB of RAM and that seems to be the only option, at least judging by the GPC data.
The renders suggested that the new Xcover will have a 6.56" display, which will have 1,080 x 2,408px resolution (that works out to 20:9 aspect ratio). This will be an AMOLED panel, if rumors are to be believed.
As seen in the renders, the selfie camera is notched into the display and there are some robust bezels around the perimeter. As is tradition, there will be a function button with a red accent on the side.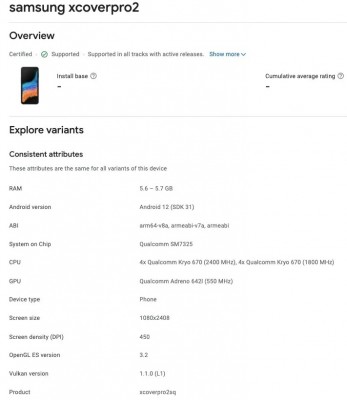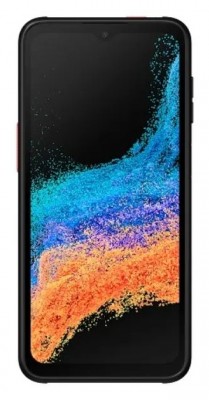 Samsung Galaxy Xcover Pro 2 details from the Google Play Console
The phone will arrive with Android 12 (with One UI 4.x) out of the box sometimes later this year, the exact launch date is unclear. The model number is SM-G736U, so we'll keep an eye for it in future leaks.
a
They better not have an OLED panel, or else that's Samsung giving us the middle finger and killing the Xcover series. An LCD is a REQUIREMENT for a phone that is targeted at business. You don't want burn in on your phones after a year. Peop...
Z
As of yet there is good reason to hope it will not be that large. Note that no official size spec has been released, and the dimensions given in the first leak were just estimates based on the pic - essentially something like measuring the USB-C port...
?
Can't you read? Ok, I'll repeat myself. Yes, someone should make a phone with removable battery and Snapdragon 8.. chipset and OIS in camera. The last phone that has all these features is LG V20. It also has 3.5mm jack, FM Radio, Infra...
ADVERTISEMENTS