Samsung Galaxy S21 Ultra teardown reveals hard to swap screen and battery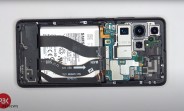 After the Galaxy S21 got disassembled on video earlier this week, PBKreviews has switched their focus to the flagship of this year's S-lineup - the Galaxy S21 Ultra.
Taking the glass back off reveals the camera lens cover is made from metal just like the frame of the device. It's held by adhesive to the glass panel and should be substantially more durable compared to the glass camera covers of the previous S-series models. Since this is the international version of the S21 Ultra, the phone is missing the mmWave antennas which would be located on the left and right sides. The actual slots for the antennas are still in place though.
Going deeper into the phone we can see Samsung used plenty of graphite film on the NFC antennas and motherboard. We then get confirmation that all three cameras on the S21 Ultra come with optical image stabilization.
Interestingly enough the top speaker does not come with foam ball insulation which was present on the smaller and cheaper Galaxy S21. Unlike the standard S21, the S21 Ultra's screen connector cable is not detachable and is fixed to the screen which makes the process of replacing the screen more difficult.
?
The genuine official sparepart comes as a octa unit. Meaning the screen with the metal rear and the front cam attached. All you need is to buy the battery which also already has adhesive tape on it.
?
The repairability of the s21 is about the same as let's say the s7 edge and any S and note series phone from Samsung after that. And it's not hard to repair if you actually know what you're doing. Which you should because a phone that ...
?
Or they also don't want unskilled people tinkering around in the phones causing problems that can lead to injuries and lawsuits.
ADVERTISEMENTS