Apple detailed its new A14 SoC yesterday that's built on the 5nm process. The new iPad Air is the first device to have the A14 at the helm, and the iPhone 12 lineup will follow next month.
Apple's competition currently uses chipsets based on the 7nm process, but Realme and Xiaomi's execs took to Weibo to tease new products powered by the 5nm flagship chipset.
Realme VP Xu Qi Chase posted an image on the Chinese social network to tease a new smartphone series that will have a 5nm processor under the hood.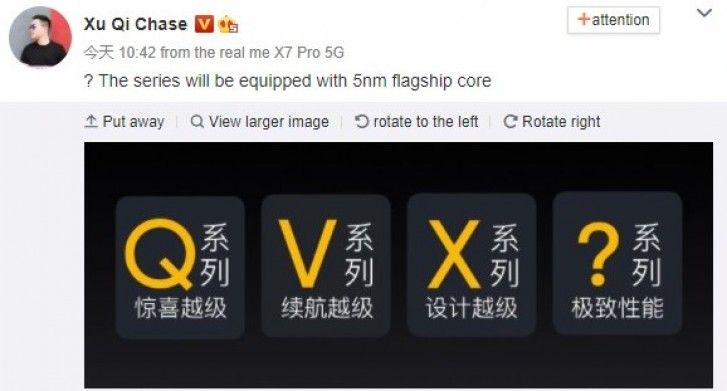 Post is machine translated from Chinese
Xiaomi's Lu Weibing, on the other hand, replied to a post saying the new iPad Air is currently the only product with a 5nm chipset and asked if customers are looking forward to new products powered by processors built on the 5nm process. This is a clear indication that the Chinese phone maker is already working on a product having a 5nm chipset at the helm.

Post is machine translated from Chinese
Neither Realme nor Xiaomi revealed any details about their products and when they will arrive in the market, but these might be powered by Qualcomm's Snapdragon 875 SoC that's already entered production.
And while we wait for more details about Qualcomm and Mediatek's 5nm chipsets, you can read all about Apple's A14 SoC here.
A
Yea, but in now way it was performing bad. The company went into dust for sure but the devices were top class....
?
It won't get updates anyway. You said it yourself that it's update support is horrible. Time to upgrade dude.
A
Letv L1S was having MediaTek SoC and I have used the mobile without updates for 5 years without lagging in performance.... No battery issues, I just broke e display after 5 years which I was using without a case and screen protector!