Leak shows the Honor 30 camera will match the Galaxy S20 Ultra sensor size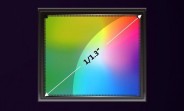 A leaked presentation for the Honor 30 shows that its main camera will have a large Sony sensor - 1/1.3", essentially the same size as the 1/1.33" sensor of the Samsung Galaxy S20 Ultra.
However, the Sony sensor will have larger pixels, 1.2µm (up from 0.8µm on the Samsung). This should give the Honor the edge in low-light shooting. And it should have an advantage over the Oppo Find X2 Pro too, which uses a Sony-made 1/1.43" sensor (48MP resolution, 1.12µm).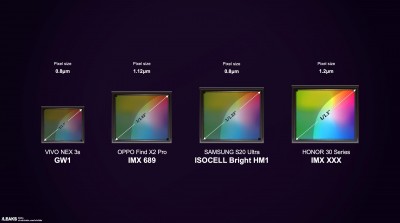 Sensor size comparison between the Honor 30 and recent Android flagships
The resolution is not listed, but it should be 48MP as the sensor and pixel sizes match up with this 48MP sensor from OmniVision. However, the unnamed Sony IMX chip might have some advantages, e.g. the new 2x2 OCL autofocus system (which Oppo calls "omni-directional AF").
Note that this is for the Honor 30, not the 30S that is coming on March 30 with the fast Kirin 820 5G chipset. Looking at the Honor 20 vs. 20S, the chipset and camera were the main differences and this 1/1.3" sensor may be one of the things that separate the Honor 30 and the 30S.
I'm still waiting for any smartphone OEM to utilize OmniVision's OV48C sensor. It's a much better module compared to the standard Sony and Samsung's 48MP with much bigger sensor and larger native micron pixel count.
ADVERTISEMENTS