Apple's Holiday movie is about Simon the snowman and is shot on the iPhone 13 Pro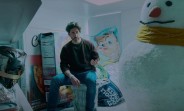 It's that time of the year again, and Apple has released its annual Holiday movie, shot on the iPhone 13 Pro.
The movie is made by Jason Reitman and his father, Ivan Reitman, both Oscar-nominated in their own right. It's a film about Simon the snowman and a little girl that cares for him throughout the year. Here it is.
Apple also released the 'making of' video that shows commentary from the directive duo and a glimpse at the tech used to enhance the iPhone's video-making abilities, like ND filters, attachable lenses, and phone holders.
As with all such films, additional software has been used.
S
I think people are overly negative about this movie. (I'm not a iPhone owner or fanboy, I own 2 Android phones.) See, truth can't be hidden. If people wanted iPhone's direct video result, they'll youtube search "iphone 1...
I
Shot on iPhone (edited and post-processed in Photoshop, Adobe Aftereffects, DaVinci Resolve, and Lightworks, but don't tell anyone)
B
The iPhone is brilliant for video. But the truth needs to be told these people were not just picking up their iPhone and making a movie they were adding equipment to the iPhone to enable them to make the movie on the iPhone. And it's clear that ...
ADVERTISEMENTS