Normally Apple's September event would give us the new iPhone lineup, but 2020 is unlike most years so new Apple Watches and iPads will have to do for now. However, we still got to see the debut of the Apple A14 Bionic chipset that will power the upcoming iPhone 12 smartphones.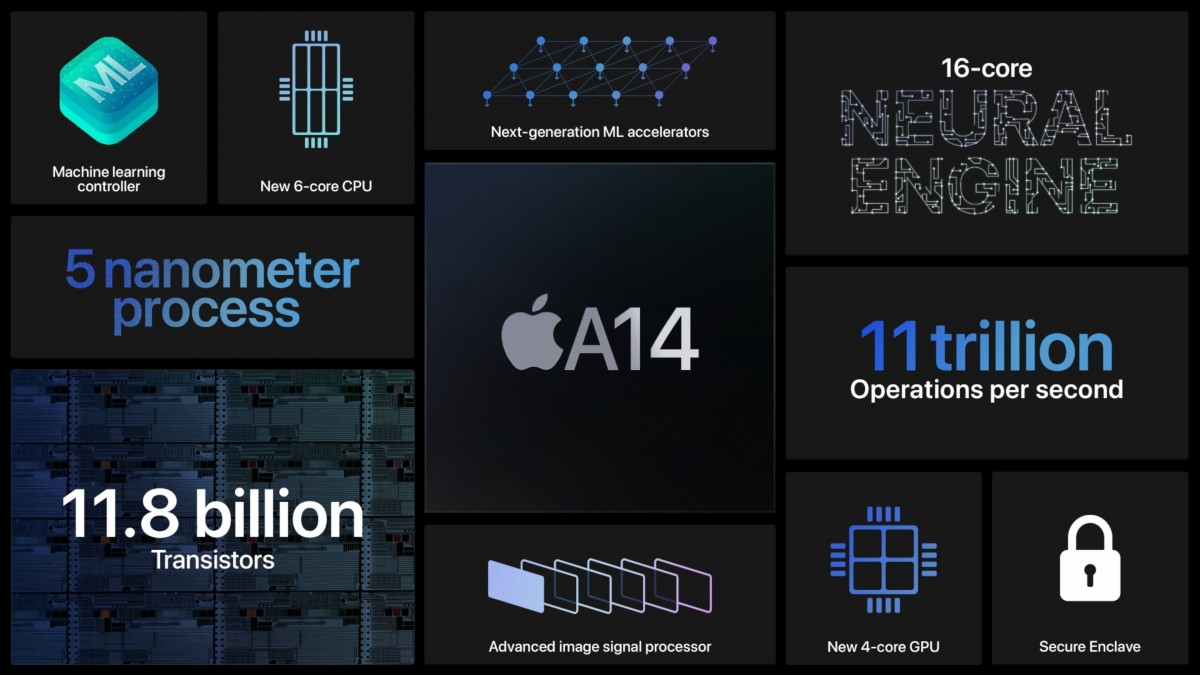 This is the first chipset globally built on the new 5nm process, outdoing Android competition that still uses 7nm SoCs. It comes with a six-core CPU and quad-core GPU, but oddly enough Apple chose to compare its performance numbers to the A12 rather than last year's A13, quoting 40% CPU improvement and 30% boost in graphics.
However, knowing that last year Apple said the A13 Bionic brought a 20% speed increase across the board over the A12 Bionic, we can estimate the 2020 chipset to have a 17% faster CPU and 8% better GPU than its predecessor.
These aren't huge gains, but then again some of the improved efficiency brought by the new manufacturing process went towards lower power consumption.
While Apple kept its tradition and didn't talk clock speeds, it promises the same 10h battery life on the new iPad Air 4 as on its predecessor. However the new slate has a 28.6Wh battery compared to the 30.8Wh pack on last year's model, suggesting 8% lower power draw. We aren't sure how much of this is down to the new screen and how much to the chipset, but it still bodes well for the battery life of the iPhone 12 lineup.
M
All you logics are fair but you can't compare Apple SoC and Android SoC on AnTutu. They are written differently. iOS Metal API and Android Open GL ES and Vulkan API. Even if SD gets away with peak CPU performance with the new SoC it won...
M
Looks like you are stuttering even when typing. All i have to say to you is you shouldnt consider flopcount as the measure for game or benchmark performance. Isa is the machine language to communicate between hw and sw, and by gpu architecture it mea...
Doesn't matter if they didn't because in gsm test sd phone won in more.. but the thing is anand only showed in favour of Apple we know why and then called other test fraud where Apple didn't do well,, lol.. But in other tests site sd w...