May 24, 2023
motorola razr 40 ultra detailed leak press renders and full specs
After its video leak earlier today, we get all of the Motorola Razr 40 Ultra specs along with high-res press images in all three of its colors.
The Motorola Razr 40 Ultra will have a 6.9-inch inner display with a 2400x1080px resolution and a 165 Hz refresh rate – that's both bigger and faster than the Galaxy Z Flip4. The big cover display is 3.6-inch and it's a 1066x1056px panel, which the source says also refreshes at 165 Hz.
Powering the Motorola Razr 40 Ultra is the Snapdragon 8+ Gen 1 with 8 GB of RAM, and there's 256 GB of built-in storage.
Motorola Razr 40 Ultra in…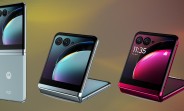 Link: https://www.gsmdb.com/gsmarena/motorola_razr_40_ultra_detailed_leak__press_renders_and_full_specs-news-58676.php