March 22, 2023
xiaomi redmi note 12 pro 5g in for review
The Redmi Note 12 series open the European chapter of their global journey today and we have the Redmi Note 12 Pro in the office, so let's do an unboxing.
This is a well supplied phone. It has a case, a 67W charger, and a USB cable. With the supplied 67W charger, Xiaomi promises to go from 0% to 50% in just 15 minutes, and up to a 100% in 46 minutes. We'll give those figures a test in our review.
Unboxing the Redmi Note 12 Pro
The Xiaomi Redmi Note 12 Pro starts from €399 (INR24,999 when it launched in India back in January) and you get a nicely rounded devices for that money….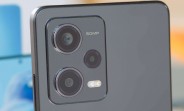 Link: https://www.gsmdb.com/gsmarena/xiaomi_redmi_note_12_pro_5g_in_for_review-news-57994.php