November 24, 2022
these black friday laptop deals are worth a look
Black Friday sales have extended into a week-long sale event over at Amazon, but now that the real Black Friday is here, here are the best deals on laptops that we could found.
We start off with deals in the UK and Germany, but you will find the US-specific laptop deals further down.
We are looking at computers with some of the latest and greatest hardware, including Intel's 12th gen and AMD's 6000 series processors, but also slightly older hardware, which is now heavily discounted. There are also some very powerful gaming laptops, too.
Keep in mind that these aren't all the deals…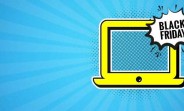 Link: https://www.gsmdb.com/gsmarena/these_black_friday_laptop_deals_are_worth_a_look-news-56641.php