September 21, 2022
redmi note 11 pro 2023 with snapdragon 712 spotted at the google play console
Occasionally Xiaomi re-releases old phones with a slight refresh, like the Redmi Note 8 2021, for example. Info on the Google Play Console reveals that there is another such model on the way for next year – the Redmi Note 11 Pro 2023 (code name "sweet").
Redmi Note 11 Pro (2023), image from the GPC (possibly a reused image of the Note 10 Pro)
This is a follow-up to the Redmi Note 11 Pro from this year, although with a different chipset and different camera layout. According to the GPC, the 2023 edition will be powered by the Snapdragon 712.
That wasn't the most impressive chipset…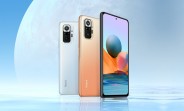 Link: https://www.gsmdb.com/gsmarena/redmi_note_11_pro_2023_with_snapdragon_712_spotted_at_the_google_play_console-news-55902.php