August 3, 2021
samsung galaxy buds2 full specs leak
At its grand August 11 event, Samsung will launch many things, including two new foldable smartphones, two new smartwatches, and the Galaxy Buds2. The new earbuds have been leaking like crazy lately, and after finding out what they're going to cost, today's leak brings us their full specs sheet.
If you take into account the fact that leaked renders of the buds (like the ones below) have also been outed countless times, correct us if we're wrong, but we think this means Samsung has literally nothing left to announce next week – at least on the Buds2 front.
Anyway, here go the specs….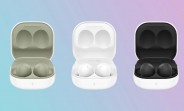 Link: https://www.gsmdb.com/gsmarena/samsung_galaxy_buds2_full_specs_leak-news-50370.php