July 21, 2021
at t motorola razr 5g updated to android 11 with june security patch
We received a tip that AT&T's Motorola RAZR (2020) 5G has been updated to Android 11 via the June security patch. Our tipper sent us a screenshot confirming the Android version on his device is indeed 11.
Screenshot sent in by our reader Joe V.
Granted, most other regions have already been receiving the OTA update to Android 11 back in April, but US carrier editions normally tend to lag behind unlocked devices.
Interestingly, the Android version listed on AT&T's website is not the one sent in by our tipster. Perhaps a small batch of users were indeed updated to Android 11 with…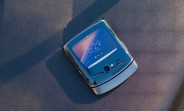 Link: https://www.gsmdb.com/gsmarena/at_t_motorola_razr_5g_updated_to_android_11_with_june_security_patch-news-50171.php