July 20, 2021
bloomberg 14inch and 16inch macbook pros coming in septembernovember
A new report from Bloomberg's Mark Gurman shares that the new MacBook Pro's will be announced in the months from September to November.
The period is extrapolated from the expectation that the 14-inch and 16-inch MacBook Pro's will enter production in Q3. The pair of computers were expected to launch earlier but was delayed because of miniLED display complications.
Those complications were reportedly sorted with new miniLED supplier Osram Opto Semiconductors.
Still, mass production of the 14-inch and 16-inch MacBook Pro's is expected to be delayed so the machines might not be…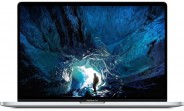 Link: https://www.gsmdb.com/gsmarena/bloomberg_14inch_and_16inch_macbook_pros_coming_in_septembernovember-news-50155.php