April 17, 2021
hot take sony xperia 1 iii xperia 5 iii and xperia 10 iii
Sony brought its smartphone lineup for an entire year in a single announcement this week and there are things we want to talk about.
So here go a few early thoughts on what we found interesting, what are the key points and what we think about them.
A true band of brothers
The Sony Xperia 1 III, Xperia 5 III and Xperia 10 III are very different and yet they clearly follow the same formula. You could say they have more things in common than any smartphone lineup out there.
All three have 21:9 OLED screens, stereo speakers, a 4,500mAh battery, expandable storage, 3.5mm headphone…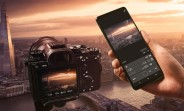 Link: https://www.gsmdb.com/gsmarena/hot_take_sony_xperia_1_iii_xperia_5_iii_and_xperia_10_iii-news-48690.php