April 7, 2021
nokia x10 and x20 announced 5g with snapdragon 480 3 years software updates and warranty
The Nokia X name has been associated with many different kinds of phones in the past – multimedia ones, a Microsoft-backed Android phone, then an HMD-made Android for China and now it is all about sustainable 5G smartphones.
The new series debuts with two models, the Nokia X10 and X20. HMD has pledged full support for three years – this means three years of OS and security updates, but also three-year warranty. As part of HMD's green initiative, the phones come with an included case that is 100% compostable.
The two phones are nearly identical, differing mainly in the camera department….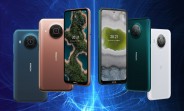 Link: https://www.gsmdb.com/gsmarena/nokia_x10_and_x20_announced_5g_with_snapdragon_480_3_years_software_updates_and_warranty-news-48567.php