February 24, 2021
rumor the huawei p50 phones will be the first to use sonys 1 imx800 sensor
According to leakster @RODENT950 the first 1" sensor built specifically for phones is coming soon and the Huawei P50 flagships will be the first to put it in action. The sensor in question is the Sony IMX800, which will allegedly be unveiled in April.
As for the P-series phones, the leakster is teasing three camera configurations. The top dog, presumably the Huawei P50 Pro+, will have everything: a wide, ultra wide, tele and periscope lenses, plus a 3D ToF sensor.
Below that will be the P50 Pro, which will keep the periscope but lose the mid-range tele lens (and the ToF sensor)….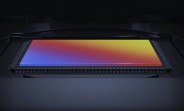 Link: https://www.gsmdb.com/gsmarena/rumor_the_huawei_p50_phones_will_be_the_first_to_use_sonys_1_imx800_sensor-news-47938.php