February 22, 2021
redmi k40 series to pack 4520 mah batteries limited edition with damascus steel pattern teased
We're only three days away from the Redmi K40 series announcement and we've learned most of the key specs of the two phones. Now, we get details on the battery capacity for both the vanilla and Pro models which is set at 4,520 mAh.
Redmi K40 series battery capacity poster
In addition, we get a look at a limited edition K40 unit sporting a Damascus steel blade back pattern. Damascus steel knives are regarded as the sharpest and fastest cutting blades and Redmi chose them to represent the speed and performance aspects for the K40 lineup.
Based on previously disclosed info, we…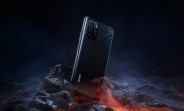 Link: https://www.gsmdb.com/gsmarena/redmi_k40_series_to_pack_4520_mah_batteries_limited_edition_with_damascus_steel_pattern_teased_-news-47874.php