November 19, 2020
ios 1421 rolls out with fixes for iphone 12 family
Apple is rolling out a new version of iOS today, but this one is unlike most. Usually a new iteration of the software goes out to all supported devices, but this time around we have an exception.
iOS 14.2.1 is only headed to the members of the newly released iPhone 12 family: the 12 itself, the 12 mini, the 12 Pro, and the 12 Pro Max.
When you look at the changelog, this makes sense, because the iterative upgrade only aims to do one thing: fix issues that have popped up on the new iPhones.
For example, the iPhone 12 mini's lock screen could become unresponsive at times, but…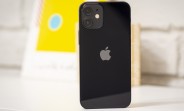 Link: https://www.gsmdb.com/gsmarena/ios_1421_rolls_out_with_fixes_for_iphone_12_family-news-46364.php