September 21, 2020
samsung galaxy note20 ultras new patch improves camera performance
Some unlocked Samsung Galaxy Note20 Ultra 5G units in the US are now receiving an update that brings a handful of under-the-hood improvements and bumps up the security patch to September 2020.
Screenshot of the changelog
The update has been spotted outside of the US as well but the changelog didn't include any of the camera and stability changes except the September security patch, so the US users are the first ones to receive the full update. The company will likely push the improvements with the next security patch in October.
Anyway, the changelog isn't very descriptive, as…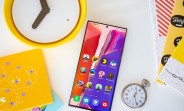 Link: https://www.gsmdb.com/gsmarena/samsung_galaxy_note20_ultras_new_patch_improves_camera_performance-news-45412.php