July 1, 2020
google discontinues the pixel 3a and pixel 3a xl
Google is discontinuing the sales of the Pixel 3a and the Pixel 3a XL. The company revealed this information in a statement to Android Police.
The statement says that the company has sold through its inventory and completed sales of the two devices on its online store. The phones will now only be available through retailers until stocks last.
On its online US store, the Pixel 3a is being listed as Out of Stock but the page is still accessible, unlike the older Pixel 3 series devices, which have been removed entirely.
The Pixel 3a series was launched in May of last year to…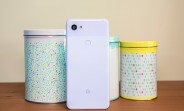 Link: https://www.gsmdb.com/gsmarena/google_discontinues_the_pixel_3a_and_pixel_3a_xl-news-44073.php