June 2, 2020
unreleased realme is confirmed to be real sadly gets cancelled
Back in April, a phone with the Realme logo leaked on Weibo, suggesting the brand is trying a radically new design which is similar to some Oppo Reno smartphones. It had some gaming aesthetics and three cameras, hidden behind a flat panel and we thought this is either a prototype of a future gaming phone or just a mock-up of a completely new device.
The truth was revealed by Francis Wang, CMO of Realme India – it was a design consideration for a new smartphone, but had to be canceled because the company didn't want to make any compromises with the internal design.
Yeah, it's beautiful….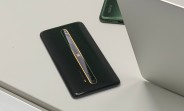 Link: https://www.gsmdb.com/gsmarena/unreleased_realme_is_confirmed_to_be_real_sadly_gets_cancelled-news-43548.php