June 2, 2020
new relme 6i blue soda color goes on sale
The Realme 6i is now available in a third color – Blue Soda (Soda Blue sounds better, doesn't it?), to go along with the Cream White and Green Tea.
Realme just announced the new color addition, but it's already on sale in the UK, Czech Republic and Poland in Europe, as well as the Philippines.
The model is priced PLN 950 (€215) and GBP189 (€212) for the Europe-bound 4/128GB, while in the Philippines there's a 3/64GB variant for PHP 7,990 (€142) and a 4/128GB Blue Soda Realme 6i for PHP 9,990 (€180).
Realme 6i in Blue Soda
Otherwise the Blue Soda variant shares the exact same…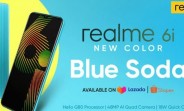 Link: https://www.gsmdb.com/gsmarena/new_relme_6i_blue_soda_color_goes_on_sale_-news-43555.php