April 15, 2020
oppo find x2 in for review
We've already dealt with the Oppo Find X2 Pro and gave it a lot of praise for its lovely display, its cameras and its excellent build.
The Oppo Find X2 is now here at HQ and it shares a lot of what made the Pro so good, only it costs a little less. Here are our quick first impressions of the Oppo Find X2, along with an unboxing.
The Find X2 Pro comes with a 65W charger, USB-C cable, USB-C headphones and a complimentary silicone case.
The Find X2 is ever so slightly shorter than the Find X2 Pro and noticeably thinner. Up front it has the same premium 6.7-inch 1440p AMOLED with…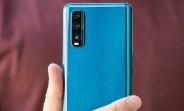 Link: https://www.gsmdb.com/gsmarena/oppo_find_x2_in_for_review-news-42650.php