February 27, 2020
realme band specs features sale date
Realme will unveil the Realme 6 series on March 5 but alongside that, the company will also launch its first smartband dubbed Realme Band.
We don't know the price of the Realme Band yet, but the company today revealed a bevy of features on its official India site to build the hype.
For starters, the Realme Band will feature a color screen which will display notifications for calls, messages and alarms.
Realme Band will sport a color display
The band will come with sleep tracking and real-time heart-rate monitoring and support nine sports modes, one of which is the Cricket…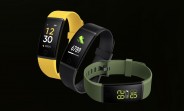 Link: https://www.gsmdb.com/gsmarena/realme_band_specs_features_sale_date-news-41749.php