February 13, 2020
high demand for xiaomi mi 10 sees the phone sell out in seconds
Xiaomi Mi 10 arrived yesterday alongside the Mi 10 Pro. The phones went on sale earlier today, but that only lasted a few seconds as all available stock was gone.
Xiaomi Mi 10 in Peach Gold, Green, Black
According to Xiaomi, the flash sale generated over CNY200 million, which means there were between 42,000 and 50,000 units available .
The Mi 10 duo obviously resonated well with the local market and it might enjoy strong sales if Xiaomi is able to keep up with supply. With the corona virus causing all sorts of trouble in China, manufacturing enough units will certainly be…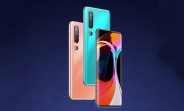 Link: https://www.gsmdb.com/gsmarena/high_demand_for_xiaomi_mi_10_sees_the_phone_sell_out_in_seconds-news-41535.php