January 12, 2020
realme ui video hints at new realme buds air neo
The Realme UI was officially unveiled today and amidst all the screenshots is a hint of an upcoming product – the Realme Buds Air Neo. Those can be seen in the Dual earphone connection screen in the settings.
The Realme Buds Air were announced in December and in our review we found them to provide amazing value for money.
Realme Buds Air Neo are connected to the phone
The current buds don't have active noise cancellation outside of calls so that's one possible feature that Realme Buds Air Neo might bring.
As for the Dual Earphone feature, it lets you send different audio to…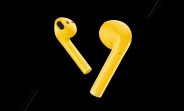 Link: https://www.gsmdb.com/gsmarena/realme_ui_video_hints_at_new_realme_buds_air_neo-news-41014.php