December 24, 2019
2019 winners and losers samsung
This year the mobile phone market saw the rise of many new trends – from high refresh rate screens through 108MP image sensors to periscope cameras. The first foldable phones went on sale, charging speeds went through the roof, displays got curvier and grew punch holes.
Some brands used these trends to their advantage and grow in the market, others missed the mark. In this series we look at what each company got right in 2019 and where their efforts came short. We'll start with the world's largest manufacturer – Samsung.
It's time to look at the smartphone leader and the year it had….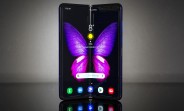 Link: https://www.gsmdb.com/gsmarena/2019_winners_and_losers_samsung-news-40711.php