December 16, 2019
samsung galaxy a01 quietly unveiled with 57 hd screen plenty of memory
The Samsung Galaxy A01 was unveiled quietly, though looking at its specs, it may make a splash. Some details are still missing, though, most importantly the price.
The phone is built around a 5.7″ Infinity-V display, meaning that the 5MP selfie camera lives in a notch. The display has an LCD panel with 720p+ resolution and rounded corners.
Around the back there's a 13MP main camera and its 2MP depth sensor. There's no official confirmation, but we'll venture a guess and say it records 1080p video.
The Galaxy A01 is powered by an unnamed chipset with an octa-core processor. We…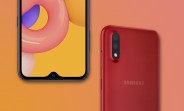 Link: https://www.gsmdb.com/gsmarena/samsung_galaxy_a01_quietly_unveiled_with_57_hd_screen_plenty_of_memory-news-40617.php