December 15, 2019
samsungs note10 lite to know the exact location of the s pen thanks to bt 51
Samsung's upcoming Galaxy Note10 Lite is no longer a question of if, but of when. It received Bluetooth certification earlier this month alongside the Galaxy S10 Lite, but now its papers have been updated and bring a nice little surprise.
The Bluetooth certification
According to the latest certification document, the Galaxy Note10 Lite will support the latest Bluetooth 5.1 standard, which brings a cool feature that Bluetooth 5.0 lacks – positioning.
This, in turn, could mean that the Note10 Lite will know where precisely the S Pen is allowing for more accurate and advanced…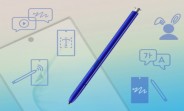 Link: https://www.gsmdb.com/gsmarena/samsungs_note10_lite_to_know_the_exact_location_of_the_s_pen_thanks_to_bt_51-news-40586.php