December 15, 2019
apple arcade now offers a slightly cheaper yearly subscription
Apple Arcade was announced in March and launched with a price of $5 a month. Now Apple has decided to add a yearly payment option, which drops the monthly price a bit.
Changing from a monthly to a yearly subscription for Apple Arcade
In North America, a year of Arcade costs USD50 in the US and CAD60 in Canada. In the UK and mainland Europe, it's GBP50 and EUR50, respectively. You save about 20% for one year – here's how much you'll be paying per month with either option.
Apple Arcade
Monthly subscription
Yearly subscription
US
USD 5/mo, USD…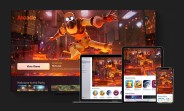 Link: https://www.gsmdb.com/gsmarena/apple_arcade_now_offers_a_slightly_cheaper_yearly_subscription-news-40592.php