December 9, 2019
saying goodbye to windows 10 mobile microsoft ends support for its mobile os
Windows on mobile is dead. Again. Today ends the support for all Windows 10 Mobile products, meaning there will be no new security updates, no non-security hotfixes and no free support.
It's not all over, though, the Office apps for Windows 10 Mobile phones will continue to be supported until January 12, 2021. This means that Word, Excel, PowerPoint and OneNote will continue receiving updates and security patches.
Microsoft still recommends that you move to an Android or iOS device, however, and use the Office apps for those platforms.
Before we close this chapter of mobile OS…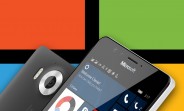 Link: https://www.gsmdb.com/gsmarena/saying_goodbye_to_windows_10_mobile_microsoft_ends_support_for_its_mobile_os-news-40502.php