December 2, 2019
apple announce best iphone ipad apps games 2019
Apple has just announced its top apps and games for iPhone, iPad, Mac, and Apple TV. The most important award, iPhone App of the year, went to Spectre Camera, while the Game of the year is Children of the Light.
Children of the Light
The Spectre app was made by the same people that developed Halide. It is made for long exposures without the need for fancy camera equipment, everything is solely based on AI. Apple chose specifically Spectre because it "encourages quality software" instead of something that would make money.
Long exposure photography lets you achieve cool effects…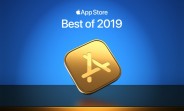 Link: https://www.gsmdb.com/gsmarena/apple_announce_best_iphone_ipad_apps_games_2019-news-40381.php