November 19, 2019
honor v30 teasers focus on 5g connectivity as the phone visits geekbench
The Honor V30 and V30 Pro will be unveiled next week – on November 26 – so predictably both the teaser campaign and the leaks have picked up. Here's a photo of the V30 flexing its 5G connectivity as it downloads a 1.6GB game update.
Official teaser image of the Honor V30
Honor also posted a couple of teaser images for the upcoming phones, which really focus on the 5G.
Honor V30 5G teasers focus on the next-gen connectivity
Meanwhile, the Honor V30 5G was also spotted in Geekbench. The phone will be powered by the latest Kirin 990 5G chipset and this particular unit…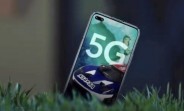 Link: https://www.gsmdb.com/gsmarena/honor_v30_teasers_focus_on_5g_connectivity_as_the_phone_visits_geekbench-news-40181.php