November 3, 2019
asus zenfone 6 gets android 10
The Asus Zenfone 6 is one of the most feature-packed phones at the $500/€450 price segment. On top of the great rotating camera, snappy performance and monstrous 5,000 mAh battery the phone also comes with a clean build of Android. The software experience is getting even better now as Asus has begun pushing the Android 10 update to users across the US and India.
Zenfone 6 Android 10 update changelog
This is quite a feat given that Android 10 was released just two months ago and is still only running on a select group of devices from Google, Essential, OnePlus, Xiaomi and Nokia….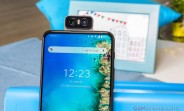 Link: https://www.gsmdb.com/gsmarena/asus_zenfone_6_gets_android_10-news-39943.php