September 25, 2019
amazon unveils seven new alexapowered devices including a smart ring and glasses
Amazon just unleashed a new wave of Alexa-powered Echo devices and they literally come in every shape and size. This isn't an exaggeration, the Echo Loop is a smart ring with a built-in microphone, speaker and an all-day battery life.
Amazon's new Echo Loop is the smallest smart device yet
Alexa is just a tap away (to save battery, there's no wake word support). You can use the ring to make calls, control your smart home and do everything in Alexa's ever-growing arsenal of skills. At night, just pop the ring on its wireless charging stand.
The Day1 Edition of the ring,…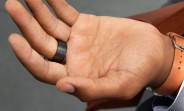 Link: https://www.gsmdb.com/gsmarena/amazon_unveils_seven_new_alexapowered_devices_including_a_smart_ring_and_glasses-news-39353.php