September 18, 2019
xiaomi redmi 8a launch date
The Redmi 7A unveiled back in May will get a successor next week, as Xiaomi has announced it will launch the Redmi 8A in India on September 25.
The company also confirmed that Redmi 8A will pack a 5,000 mAh battery which is an upgrade over the 4,000 mAh cell its predecessor ships with.
Time for another dumdaar addition to India's most-loved Redmi A series. We'll unveil the #DumdaarRedmi8A for you on 25th September 2019. A lot of dumdaar features to look forward to. Here's one – 5️⃣🔋🔋🔋Guess it & RT to win this dumdaar phone….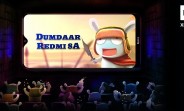 Link: https://www.gsmdb.com/gsmarena/xiaomi_redmi_8a_launch_date-news-39254.php