September 17, 2019
first iphone 11 pro max teardown confirms 4000mah battery
Someone already managed to take apart an Apple iPhone 11 Pro Max and found a surprise waiting inside – a 4,000mAh battery. Well, 3,969mAh, if you want to be precise. That matches exactly the number reported by TENAA.
iPhone 11 Pro Max battery (15.04Wh) • iPhone XS Max (left) and iPhone XS (right) batteries
The battery is rated at 15.04Wh, an impressive 25% increase over the 12.08Wh battery of the iPhone XS Max. Apple once again used an L-shaped battery to cram in as much capacity as possible. The company first used this design for the iPhone X.
Apple announced that it will be…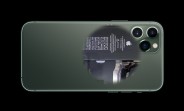 Link: https://www.gsmdb.com/gsmarena/first_iphone_11_pro_max_teardown_confirms_4000mah_battery-news-39242.php