August 22, 2019
samsung galaxy note10 series global launch
The Samsung Galaxy Note10 and Galaxy Note10+ start their journey today, going on sale in over 70 countries including Canada, France, India, Singapore, Thailand, Australia, the US, and the UK.
The duo's availability will quickly expand with the Note10 pair hitting 130 markets by the beginning of September.
Samsung Galaxy Note10+
The Samsung Galaxy Note10 and Note10+ are similar phones with the latter coming with an extra ToF module at the back, bigger battery with faster charging, and a larger screen with higher resolution.
The Note10+ also has more RAM and it's the only…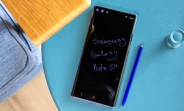 Link: https://www.gsmdb.com/gsmarena/samsung_galaxy_note10_series_global_launch-news-38833.php