August 13, 2019
case maker confirms iphone 11 name the iphone 11 pro wont be the biggest however
What comes after X? As it turns out, it's 11 – case maker ESR has published quotation lists for cases that include ones for the three new iPhone models. And there's a big shakeup in the naming scheme.
Apple iPhone 11, 11 Pro and 11 Pro Max
The basic model will be called the iPhone 11. Last year Apple tried introducing an "affordable" model again, the iPhone XR. Previous attempts were the iPhone 5c and SE. No more, though, all three new iPhones will be "11".
Next up the ladder is the iPhone Pro. The "Pro" moniker likely indicates compatibility with the Pencil, which was introduced…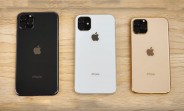 Link: https://www.gsmdb.com/gsmarena/case_maker_confirms_iphone_11_name_the_iphone_11_pro_wont_be_the_biggest_however-news-38676.php