July 22, 2019
huawei mate 30 pro reportedly caught in the wild
Here's our first look at the Huawei Mate 30 Pro – not through renders or glass panels – but in the real world.
The images below show two unknown Huawei devices, reminiscent of the Mate 20 Pro, in a design-protective case alongside two Huawei Mate 20 X being used in some sort of call test.
Huawei Mate 30 Pro in the wild
Let's assume this is the Mate 30 Pro, because of the NDA case. It has a notch, just as the Mate 20 Pro, which will likely be used for Face ID.
The screen is also curved, just like the Huawei Mate 20 Pro's.
Huawei Mate 30 Pro in the wild
We're more…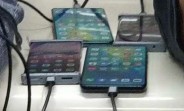 Link: https://www.gsmdb.com/gsmarena/huawei_mate_30_pro_reportedly_caught_in_the_wild-news-38286.php