July 22, 2019
dummies show the size difference between the samsung galaxy note10 and note10
We've seen plenty of renders of the Galaxy Note10 phones, but they do a poor job of showing the size difference between the two phones. So, here's a collection of dummies of the Plus and non-Plus models side by side.
Samsung Galaxy Note10 and Note10+ dummies
The Samsung Galaxy Note10+ will come with a 6.8″ screen with QHD resolution. You can't see it in the photos, but this model will be fairly heavy at 198g (in part due to the 4,300mAh battery).
Samsung Galaxy Note10 and Note10+ dummies
The Samsung Galaxy Note10 will come with a smaller 6.3″ and it will revert back to…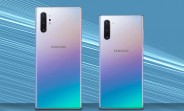 Link: https://www.gsmdb.com/gsmarena/dummies_show_the_size_difference_between_the_samsung_galaxy_note10_and_note10-news-38285.php