July 18, 2019
the samsung galaxy fold marketing campaign is reportedly ready to start
Stop us if you've heard this one before – the Samsung Galaxy Fold is ready to hit the market. According to reports from insiders, the completed redesign has passed all in-house (and real world) tests and the company is preparing to begin the marketing campaign for the phone.
It's still not clear when the Fold will be available, however. It's too late for a July launch, but if Samsung wants to beat Huawei, it better hurry up as the Mate X will soon launch in China and go global in September.
The next big Samsung event is scheduled for August 7 (it's the Galaxy Note10 Unpacked event)….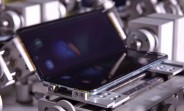 Link: https://www.gsmdb.com/gsmarena/the_samsung_galaxy_fold_marketing_campaign_is_reportedly_ready_to_start-news-38233.php