June 24, 2019
oneplus 7 pro almond limited edition now available in europe
The limited edition Almond color option for the OnePlus 7 Pro has finally arrived in Europe, following its launch in the US and China and in India earlier this month.
OnePlus 7 Pro Almond limited edition
The phone is already available, the sale started at 9 UTC. Note that the Almond version is available only in the 8/256GB configuration and costs £700/€760 (same as the Mirror Gray and Nebula Blue versions with this much memory).
The Almond-colored OnePlus 7 Pro is a limited edition model, but the company doesn't say how many units are available. Head over to OnePlus.com if you…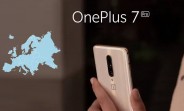 Link: https://www.gsmdb.com/gsmarena/oneplus_7_pro_almond_limited_edition_now_available_in_europe-news-37770.php