June 18, 2019
disassembly video of xiaomi mi 9t shows off popup camera indisplay fp reader
Xiaomi posted an official teardown video of the Xiaomi Mi 9T (aka Redmi K20) showing what makes it tick. The pop-up selfie camera is driven up and down by a stepper motor, a design that should be familiar enough by now.
The rear camera has two modules – the 48MP main cam and the telephoto cam come as a unit, the ultra wide-angle camera is on a separate module. The complicated-looking motherboard wraps around all that. It houses the Snapdragon 730 chipset and memory, plus the heat spreader.
Can you guess how the #Mi9T 's pop-up camera really works? 🔁 if you're correct….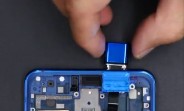 Link: https://www.gsmdb.com/gsmarena/disassembly_video_of_xiaomi_mi_9t_shows_off_popup_camera_indisplay_fp_reader-news-37667.php