June 11, 2019
huawei mate 20 x 5g bags 3c certification in china
Huawei might be held back internationally but it's home market is ready for the launch of its first 5G phone. China's Compulsory Certification (CCC) has approved the Huawei Mate 20 X (5G) meaning the device will hit the market any moment now.
Huawei Mate 20X (5G) certification
The Mate 20 X (5G) is an updated version of the standard Mate 20X and offers two key additions – namely 5G connectivity and a larger 5,000 mAh battery. The charging department will also benefit from the increased 40W fast charge support compared to 22.5W on the standard version.
Huawei's first 5G phone…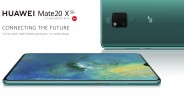 Link: https://www.gsmdb.com/gsmarena/huawei_mate_20_x_5g_bags_3c_certification_in_china-news-37546.php