June 11, 2019
amd announces new radeon rx 5700 series graphics cards
AMD has announced three new desktop graphics cards at E3 2019. These are based on the new 7nm 'NAVI' architecture that gamers have been anticipating for a few years now.
Two of the new models being announced today are the Radeon RX 5700 and the Radeon RX 5700 XT.
The RX 5700 XT has 40 compute units and 2560 stream processors, with a peak performance of 9.75 TFLOPS. It has a base clock speed of 1605MHz and a boost clock speed of 1905MHz, which can only be sustained for short bursts. The more realistic game clock is 1755MHz.
The GPU comes with 8GB of GDDR6 memory and starts at…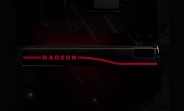 Link: https://www.gsmdb.com/gsmarena/amd_announces_new_radeon_rx_5700_series_graphics_cards-news-37525.php