June 4, 2019
samsung galaxy s10 s10 plus cardinal red price
The Samsung Galaxy S10 and S10+ are now available in a new color – Cardinal Red. Already available in Switzerland, the Galaxy S10 is priced at CHF829.95 ($836/€742) while the Galaxy S10+ costs CHF929.95 ($937/€831). Both are offered in only 128GB storage, but the phone does have a microSD card slot for expanding it as you want.
Samsung Galaxy S10 in Cardinal Red
That said, we are only looking at a new paint job here as the hardware of the Galaxy S10 and Galaxy S10+ Cardinal Red models remain the same as other versions.
Samsung Galaxy S10+ in Cardinal Red
The…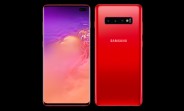 Link: https://www.gsmdb.com/gsmarena/samsung_galaxy_s10_s10_plus_cardinal_red_price-news-37406.php