May 29, 2019
amazon launches echo show 5 for 90
Amazon has launched the Echo Show 5, a smaller version of the Echo Show at a much lower price.
The Echo Shot 5 has a 5.5-inch, 960×480 resolution display. The widescreen aspect ratio is ideal for watching Amazon Prime Video content, as well as content from other service providers. On the back is a single 4W speaker.
The Echo Show 5 also has a 1MP camera on the front for video calling other Amazon Echo users. The camera has a shutter that physically blocks the camera when it's not in use.
Apart from that, it's exactly the same as any other Amazon Echo device. You can…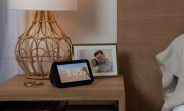 Link: https://www.gsmdb.com/gsmarena/amazon_launches_echo_show_5_for_90-news-37294.php