May 28, 2019
realme x will launch in india later this year ceo reveals price
The sixth episode of the #AskMadhav Q&A show is up and it has some good news: the Realme X will launch in India in the second half of this year.
The brand's Indian CEO Madhav Sheth even gave a pretty narrow price range for the phone – INR 18,000 to INR 20,000. That's slightly higher than the price in China (which works out to INR 15,000).
The team is still considering what specs will be best for that market (presumably this refers to the RAM and storage configuration). That will determine the final price.
Sheth also mentions the Realme 3 Pro (which was renamed to "X Lite" in China)….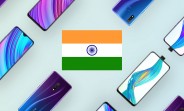 Link: https://www.gsmdb.com/gsmarena/realme_x_will_launch_in_india_later_this_year_ceo_reveals_price-news-37282.php