May 28, 2019
heres what the galaxy note10s rear camera arrangement might look like
Samsung's been a fan of centrally-aligned rear camera setups on its flagship S and Note lines for a few years now, but the company may be looking to change things with the upcoming Galaxy Note10.
As the number of cameras and sensors on the back increases, it's getting pretty hard to fit all of them in a manner that doesn't prove to be unsightly – just ask Apple about its rumored camera hump on the 2019 iPhones.
Samsung's solution to this problem might look something like this:
This render was created based on a leaked schematic of the Note10's purported rear camera arrangement….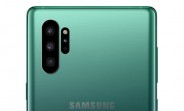 Link: https://www.gsmdb.com/gsmarena/heres_what_the_galaxy_note10s_rear_camera_arrangement_might_look_like-news-37270.php